How to choose the best office printer or Multifunction
Finding the best commercial printer for your office can seem confusing as there are so many different types of office printers on the market. Printcom wants to help you steer clear of a printer which doesn't meet your needs, or is too costly, so take a look at our handy advice below.
What is your budget?
The most important aspect to consider before buying an office printer is how much you want to spend and if this is a realistic price for what you need. A common mistake made by many people is only considering the price of the actual commercial printer and not the ongoing costs of the ink or toner. This a very common and expensive mistake many users make due to getting the wrong machine.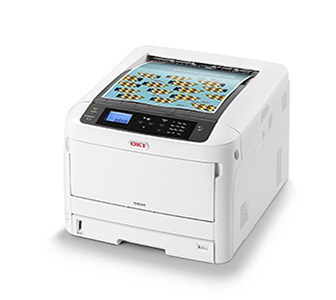 Consider the size of your office
The next factor to consider is how often the office printer will be used and what types of documents your staff will need to print. Do you have a large team who need to print thousands of pages a day or a small team who only need one hundred pages printed per day? If you have a large number of employees, it is important to compare printer speeds as this can save your staff waiting for their documents to print. You also need to consider whether double-sided printing would suit your office. This is a handy feature as it saves the amount of paper your office uses. 
Will your new office printer be part of a network?
If you have a small office your printer will only need to handle simple networking, whereas in a large office you will need a printer which can connect to a local area network (LAN). These network printers are sturdier and can handle various types of paper and can print faster
Inkjet, Laser and LED: which one is best for an office?
Inkjet
Inkjet printers are commonly used for home offices as they have a smaller footprint compared to the other printers, however, the ink for inkjet printers can be costly and the documents can sometimes come out as fuzzy or grainy. Inkjet printers also tend to be slower than laser printers.
Laser
A laser printer is a common commercial printer to have in an office. This type of printer prints documents faster and at a better quality than inkjet printers which is great for offices which need to print a large number of official documents in a short time.
LED
The quality and speed of documents produced by LED printers are very similar to laser printers, making it another popular commercial printer. Costs per page for laser and LED printers is also much less than inkjet printers and they are made to handle printing a high-volume of pages.
Why Choose Printcom
With 35 years in the industry, Printcom is the best business to help you be cost-effective without sacrificing quality service. Printcom understands how printers work and which one will suit your team's needs. They take pride in offering a range of products and services which make running your business easier. Give Printcom a call today on (08) 62705500 or send an email at sales@printcom.com.au.