PERTH PRINTER & COPIER REPAIRS AND SERVICE
"PRINTCOM IS A CERTIFIED WARRANTY SERVICE CENTER FOR BROTHER, SAMSUNG, EPSON, FUJI XEROX".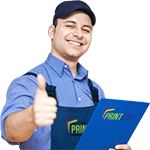 At PrintCom, we understand that printers can suffer from wear and tear. Age and improper use can cause damage to the equipment, as well. In case you are experiencing problems with your printer or copier, call us immediately. We may invite you to our workshop or perform an onsite repair service.
Skilled and Experienced Maintenance Crew
With a team of experienced technicians, we are able to provide professional Brother and Fuji Xerox printer repair service in Western Australia. We use the right tools and components to fix problems and improve the performance of your equipment.
Timeliness and Flexibility
We make sure we are always there when you need help with your printers, copiers or computers. We can attend to your needs immediately after you call and request for a service. Expect our technicians to arrive at your premises within 4 hours.
Competitive Pricing
We offer Brother and Fuji Xerox printer repairs at competitive rates to help you save on maintenance and operational costs. Fill out an enquiry form for more details.